"Stock" & "Semi-Custom" Cabinet Pitfalls:
HIGH COST OF DISTRIBUTION - Stock and Semi-Custom cabinets are mass produced by large manufacturers who rely upon distributors and third-party manufacturer representatives to sell their products to local dealers, builders and contractors. Those extra layers add to the cost of their cabinets.
HIDDEN COSTS - A common practice used by the mass producers of cabinetry is to show reasonable prices for the cabinets and doors, but hammer you with the accessories and add-on items such as pull-outs, handles, crown moulding, trim, lazy susans, decorative corbels and other items that you will want in your kitchen.
FILLERS ARE REQUIRED – No kitchen is a stock size. Carpenters must use fillers and scribe trim throughout the installation to make sure the cabinets fit snug to the walls in the existing space.
LIMITED SELECTIONS – Stock cabinets have limited selections. This often translates to as few as one style (when it comes to wood species, stain/paint color, and door style) to five or 10 styles. 
STANDARDIZED DOOR & DRAWER STYLES – Mass production limits the choices to what is featured their stock catalogs.
CABINET BOX CONSTRUCTION – Not all cabinet boxes are the same. Some manufacturers keep costs down by using particle board boxes. The problem with particle board is it more susceptible to damage from changing humidity conditions that occur during seasonal changes.
END PANELS – If you want to have decorative end panels on your new kitchen, you will be limited to applied doors. An applied door is simply a door that is attached to the side of the end panel.
Conclusion: Custom is the way to go!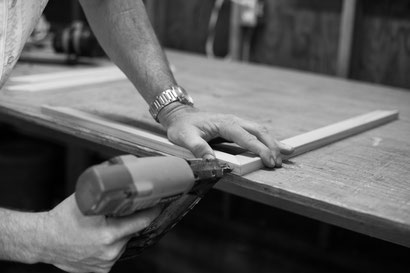 PRICE - You may find it hard to believe, but custom cabinets are most often a lower cost option after you include all the features that will be included in your desired layout.
BUDGET FRIENDLY OPTIONS– By selecting simple doors with a stain finish will result in lower cost cabinet options.
HIGHER QUALITY – Custom cabinets are made with solid wood components and include  premium quality hinges and drawer glides.
ULTIMATE DESIGN FLEXIBILITY - Custom cabinetry is built specifically for a space and fillers are never used. If you can dream it, they can build it.
WIDE RANGE OF DOOR STYLES – You can select and configure the exact door style that fits your taste.
LIMITLESS FINISH SELECTIONS – The cabinet maker offers a wide selection of finishes. If you have a paint or stain color you like, they will color match it for you.
INTEGRATED END PANELS – Instead of simply attaching a door to the end cabinet, the custom company will build it into the cabinet resulting in a furniture grade cabinet.
EASE OF INSTALLATION - Custom cabinets are built solid and square, making the installation process much easier for your carpenters!